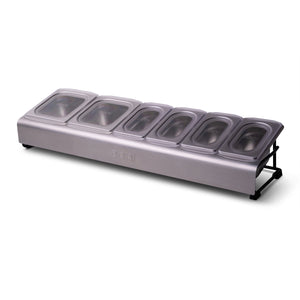 Get ready for pizza parties in style with the Ooni Pizza Topping Station. It's the perfect tool for prepping ingredients and toppings. The easy to transport system means moving from indoor to outdoor kitchens is a breeze.
The two 1.6L and four 0.8L Ooni Pizza Topping containers ensure you have plenty of toppings to keep the pizza flowing. The custom-fit clear lids for each container means they can be easily stacked and stored in the fridge. The weather-resistant, powder-coated frame and stainless steel cover fit perfectly on our Ooni Modular Tables and it is easy to transport for cleaning and storage. Build your outdoor kitchen and level-up your pizza prep with the Ooni Pizza Topping Station.


Key Features
- Unboxed dimensions: 30.5 x 9.4 x 6.3″ (77.6 x 24 x 16cm)
- Unboxed weight: 8.7lbs (3.9kg)
- Boxed dimensions: 33.4 x 9.4 x 7″ (85 x 24 x 18cm)
- Boxed weight: 14.3lbs (6.5kg)


Materials: Powder coated carbon steel, stainless steel, plastic and silicone.


Care Instructions:
Wash stainless steel cover and frame with warm soapy water. Removable container and lid can be stored in the fridge and are hand wash only. The seal in the lid can be removed when cleaning to ensure there is no build up of dirt and bacteria.
Haven't used, but looks very efficient.
value for money
I like everything about it. the wee thought of design, quality materials used, light and portable and definitely useful. It was such a delight unboxing it. highly recommended product.
Airtight and Top-Notch Quality Containers
As a professional cook, I have always wanted to own this kind of containers. It's quite pricey but the quality is top-notch. I also love the rubber seals, it turns the containers airtight and helps prolong the shelf-life of whatever you're planning to store in them. Bought two sets just because.