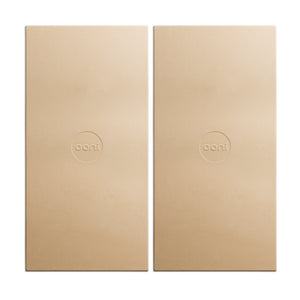 Two replacement Ooni Pro Baking Stones for use with Ooni Pro.
Every great pizza starts with a great base - something we don't mess around with at Ooni. Refresh the stone baking boards in your Ooni pizza oven with an extra set of our Ooni Pro Baking Stones. The high-quality cordierite stone baking boards are resilient ad heat-retaining for cooking a brilliant pizza base. 
Unboxed dimensions (Single stone): 18.1 x 9.1 x 0.6″ (45 x 23 x 1.5cm)
Unboxed weight (Single stone): 6.5lbs (2.9kg)
Boxed dimensions (Pack of 2): 20 x 11 x 3.5″ (50 x 27 x 8cm)
Boxed weight (Pack of 2) : 14.3lbs (6.4kg)

Made of solid cordierite stone
Extremely durable, made to last
Works with Ooni Pro
OONI Pro Baking Stones
It looks thin on the pictures, but the actual product is actually quite thick. Good quality and packaging.