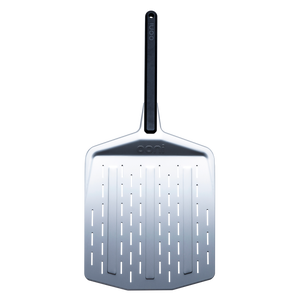 *Note: the 14″ Pizza Peel is compatible with Ooni Pro and Ooni Koda 16.
The perforated aluminium Ooni Premium Peel is a high-quality, lightweight peel for sliding, turning and retrieving pizzas from your oven with ease.
Use the tapered peel edge to slide straight under pizza bases, while the perforations mean a perfectly cooked pizza every time as steam is able to quickly evaporate and excess flour falls away from the pizza base.
Dimensions: 685 x 30 x 355mm
Weight: 1.3 lbs (580 grams)
Material: Aluminium, Nylon
Ooni 14" Perforated Pizza Peel
Very lightweight!
Love our Ooni Perf Pizza Peel! So easy to use bec it is very lightweight!
Unfortunately i didn't have time to test the oven yet
Ooni 12" Perforated Pizza Peel