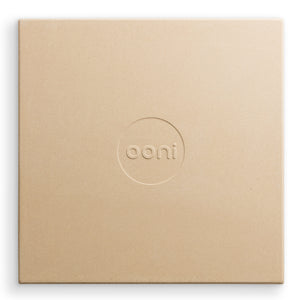 Pizza fans all over the world know it's all about that base... and this baking board allows you to create brilliant pizzas with ease. All Ooni pizza ovens come with baking stone as a standard. If you don't have an Ooni pizza oven, you can still buy our high quality cordierite stone baking board separately for use in your domestic oven.
Size: 336 x 342 x 10mm (13.2 x 13.5 x 0.4″)
Made of solid cordierite stone
Extremely durable, made to last
Works with Ooni Fyra, Ooni Koda, Ooni 3, Uuni 2S, Uuni 2 (2015)
Baking stone replacement
What i really love about ooni and oven depot is their superior customer service%21 Their response time is always fast and accurate. They don't delay their clients and their products are high quality%21 I have 2 ooni koda's and 1 karu and i love every single one of them%21
Ooni Koda 12, The Not So Secret Success of Nynäs Pizza-Biñan City
As a Merchant Navy Cook, I've cooked countless pizza for my crew. During the Pandemic I and my Family needs extra income to survive this trying time. We are so lucky to find Ovendepot and Ooni Ovens.
My pizza turns into something you just cant resist and we are so happy that all our customers keep on coming back.
Our Ooni Koda12 is so reliable, tough and a big part of the success of our Pizza Oven.
Great after sales service
Very happy with my Koda 12 even happier with the after sales service of ooni and oven depot when I encountered a problem a few months after my purchase.