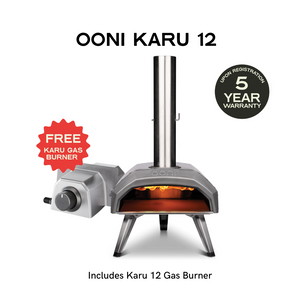 About
Start a real fire with the new wood and charcoal-fired pizza oven from Ooni, the world's No. 1 portable pizza oven company.
Ooni Karu 12 is the newest model – a portable, powerful wood, charcoal and gas* fired pizza oven that reaches 932°F (500°C) and cooks authentic pizza in just 60 seconds. This promotion comes with a Karu gas burner worth (P5,500).
Delivering a powerful blast of searing flames, Ooni Karu is a step change in pizza oven innovation. Designed for optimum airflow and maximum heat retention, it features a ceramic fibre-insulated stainless steel body, an extra-thick stone baking board and patented Flame Keeper technology. Ooni Karu delivers an unparalleled outdoor cooking experience.
*Karu Gas Burner worth (P5,999 INCLUDED)
Technical Features
Cooking surface: 33 cm (13″)
Dimension: 77 x 40 x 80cm (30" x 15" x 31")
Weight: 12kg (26.5lb)
Brushed stainless steel shell
Stainless steel inner body and base
TPR feet
15mm (0.6″) cordierite stone baking board resistant
Brushed 430 stainless steel, glass-reinforced nylon
What's in the Box
1x Ooni Karu Pizza Oven
1x Ooni Karu 12 Gas Burner
1x Stone baking board
Ooni Karu Manual and Ooni Essentials Guide with tips and recipes
* Hose and regulator not included
Warranty
We stand by our products. All Ooni products come with a 1-year warranty as standard, and we'll extend that to a 5-year warranty on our Ooni Fyra, Ooni Karu and Ooni Koda outdoor oven ranges when you register your pizza oven with Ooni. Your Ooni pizza oven must be registered within 60 days of receipt in order to claim the 5-year warranty. Click this link to register: https://eu.ooni.com/pages/product-registration
It works as advertised (Ooni Karu 12, gas/wood/charcoal).
So far, I have have used the Ooni Karu 12 with LPG and it works fine. After a full flame of 30 minutes or so, the pizza stone reached 400 to 450 degrees Celsius and my pizza cooked (with the classic leopard skin) in a couple of minutes. Outstanding!
Perfect for the inner cook in you
Tried my Ooni Karu using its gas attachment. Igniting this took a while but in the end, worked out well.
Great value for money
Great oven! Both gas and wood combo have learning curves but once you dial them down, it's pretty easy to use. Wish I got this sooner. Thank you!